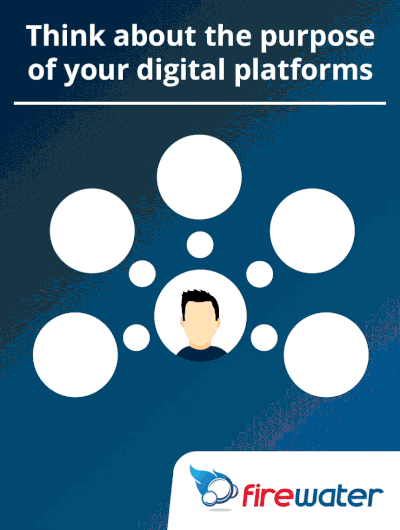 Stecker said where most companies fall short digitally was in their digital strategy forming and aligning to existing strategies within the business. It is not about wanting a pretty website or social media presence – it is about thinking about why you need it. "Companies need to think about the purpose of a website, email solution or social media presence before they actually start making decisions. What functions they need, who are they targeting and what do they want their outcome to be. Think like your customers not yourself."
Stecker advised companies to seek professional consultation before throwing their hard-earned money into a new website or marketing campaign. Getting the blue print for a company's needs is a vital part of the process and companies need to ensure they have the correct guidance and know the direction they want to head in. If you do not think about the goals before you start your digital journey, you are wasting your time and money.
"At Firewater – we believe in tangible and measurable results. Your success is our success and so having a smart digital campaign where you can visibly see your company's growth is as important to us, as it is to you," Stecker said.
Starting something without having the correct checks and balances in place is setting yourself up for failure, Stecker warned. "Having a successful digital strategy and the correct team behind you will guarantee your results," he said.
With digital marketing, not only are you able to track your results, you are able to target and profile those who see your campaign – giving you a better understanding of who your clients are, what they are interested in and what their needs are. You are also able to track opportunity and see potential growth for your company. "There are no guessing games with digital marketing; everything you need to know is in the data and it can be changed quickly if it's not optimised. You simply need to partner with a company that is able to interpret, analyse and project this data."
Stecker said that placing your budget in unknown hands was setting yourself up for failure and while there were some amazing millennials, who have a natural talent for building some of the collateral – most don't understand the business objectives or know how to measure correctly.
"You would not let your child, who rides a black wheelie bike get behind the wheel of a car, so why do so many companies let their untrained interns manage their online profiles?
"You need to do your research and ensure that your brand is placed with the correct team or person. Your online reputation is vital and once gone, it's hard to get back, although not impossible," Stecker said.
While many companies think of digital marketing as pushing their brands on a Facebook page – there is more to online than meets the eye and your options are unlimited. "Driving a successful newsletter, having a responsive website, and that trusted online manager are all vital when looking at migrating your marketing budget to an online platform.
"Digital marketing can be like the persistent in-store promoter that makes you taste their products and ultimately buy them. The difference is that next week the promoter won't be there and the customer won't buy the product however, your digital can be there and your customers will return again, and again and again."
So while money might be tight, invest digitally, see the opportunity and reap the rewards.
If you are ready to start your journey of digital marketing, contact the Firewater team on 011 262 6056 or email us at Info@firewater.net
Why not drop us a message?