Quickly gaining popularity amongst decorators, designers, artists and advertisers, EL wire is a single illuminated string of light and comes in 11 eye-catching colours. It can be bent, twisted and tied into knots, sewed into clothing or attached to a fixed surface. The possibilities are - literally - endless. Mark Stecker, co-founder of Firewater Light, elaborates: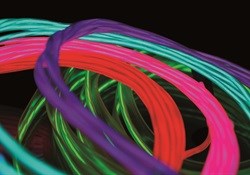 "We've been working with electroluminescent wire for over 10 years now, and have made some incredible custom creations for our clients, from light-up billboards and posters, costumes and more. The popularity of EL wire has exploded in the last few years, and that's what this site is all about: inspiring ideas and providing the creative community with the materials and advice they need to create glowing masterpieces. It could be a piece of modern furniture, an art installation, fashion design, you name it! We also sell EL wire by the meter or by the roll, and in a wide variety of different profiles and colours, perfect for any project, big or small."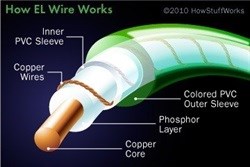 The new site will explore the lighting effects and crafting uses of EL wire and hopes to inspire people to try their hand at creating unique pieces with this cutting-edge lighting product. It also provides a full catalogue of Firewater Light's EL range (including EL wire, EL tape and more). A live chat service also helps customers connect with our team instantly and describe their EL project in detail, allowing a specialist to guide you to the right EL product for your needs.

Firewater Light is a specialist importer, manufacturer and distributor of promotional lighting products in South Africa. Using the latest technologies and the highest quality products, FWL combine innovation and illumination to harness the power of light to make any brand stand out from the crowd. For more information about Firewater Light's electroluminescent wire range and promotional lighting products, visit www.elwires.co.za.
Why not drop us a message?