The 2019 Direct Marketing Association Assegai Awards, which recognise the best of South African digital and integrated marketing projects, saw the Firewater team celebrating hard with two awards in two categories. The celebrations may or may not have involved tequila shots.
Our drip-marketing campaign – where we used ourselves as a case study for lead generation, and where we proved that a strategic email drip-marketing campaign has the power to generate new business, even on a tight budget – won Silver in the Direct Mail category.
Mark Stecker, our FIRECHIEF, said, "We believe in practising what we preach and take pride in each project we do, even our internal ones. We are so chuffed to be recognised for our unique strategic approaches. When everything comes together like this, it makes all the hard work worth it."
Our KFC Refer a WINGman campaign won a Leader award, thanks to a hyper-personalised email marketing journey. Email recipients were enticed to click on a call to action, which redirected them to an entry page, creating a competition that was both simple and fun to enter.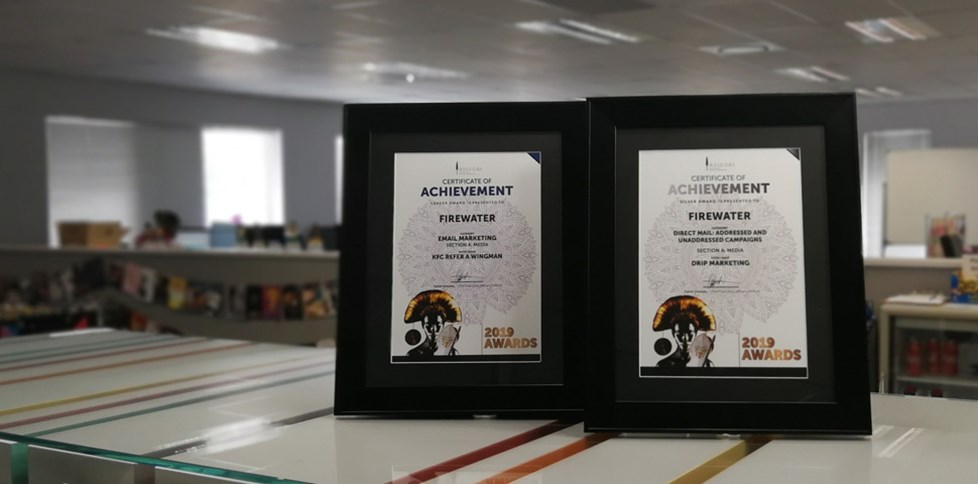 To stand a chance to win R10 000, users needed to confirm (or update) their details and refer a friend – in this case, their WINGman. The more WINGmen they referred, the more times they could enter, resulting in an updated and enriched email database.
On this, Mark said, "We are really proud to be a part of this prestigious event. It puts all our skills and hard work into perspective – at the end of the day, it makes a big difference for our clients, too."
An Assegai Award recognises strategy, creativity, and, most importantly, results, in all direct marketing media. The DMA Assegai Awards are held once a year in Johannesburg during a gala evening at the Polo Club, Inanda (oh, and horses sneeze; don't pat them if you're in a cocktail dress #truestory)…
Want an award-winning digital marketing campaign for your company? Contact us.
Why not drop us a message?