On 2 June, social media blew up with just two hashtags: #BlackLivesMatter and #BlackOutTuesday.
Hashtags help social media users – particularly on Twitter and Instagram – to easily find or categorise content. An event, for example, may have a specific hashtag attached to it; users can search that hashtag and be kept up to date on said event, down to the minute, with what's going on.
The #BlackOutTuesday hashtag was initially sparked by major US record label bosses, who used #TheShowMustBePaused to announce they'd be giving their employees the day off to mourn the deaths of black victims of police brutality – which was linked to the #BlackLivesMatter movement.  
Before anyone knew it, #TheShowMustBePaused gained traction and morphed into #BlackOutTuesday. 
Individuals and activists alike began flooding social media (mainly Instagram and Twitter) with messages of solidarity in the form plain, black images tagged with #BlackLivesMatter and/or #BlackOutTuesday. The aim was to 'black out' Instagram and Twitter with a single message of political awareness – but it backfired.
As soon as Hollywood celebrities and big brands jumped onto the hashtag bandwagon, American activists – who were at anti-police brutality protests in real-time – pointed out that the endless blocks of black were preventing them from communicating with other protestors on the ground.
Many social media users saw a lot of this on their feeds: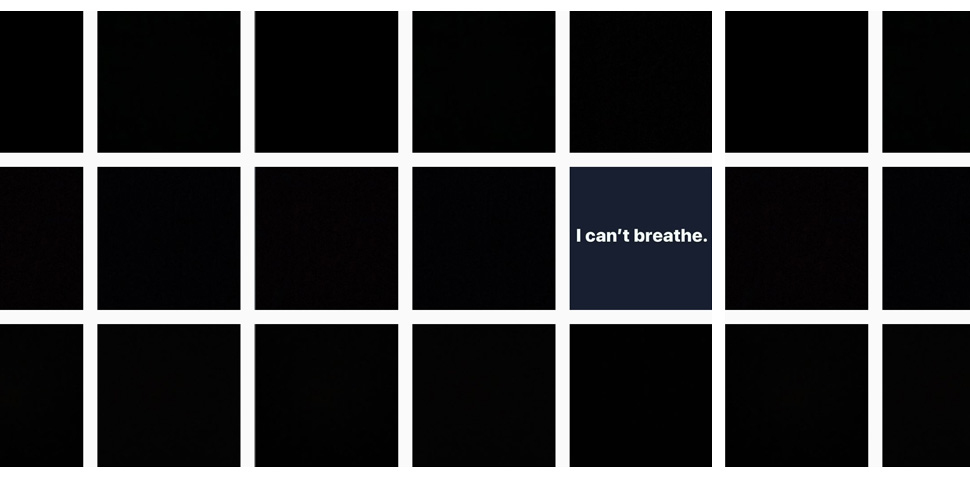 While the original intention of the hashtags was well-meaning, it had become hugely problematic.
Once the #BlackLivesMatter and #BlackOutTuesday hashtags gained worldwide traction, the hashtag tsunami inadvertently blocked real-time information that protestors urgently needed to access and monitor.
"We use [the #BlackLivesMatter] hashtag to keep ppl updated. PLS stop using the hashtag for black images!!" tweeted US Black Lives Matter activist Kenidra Woods.
These two hashtags had the adverse effect of erasing what was happening at protests across America, because all that users could see were endless rows of black blocks.
#BlackLivesMatter is not the first hashtag to #fail
There have been some major hashtag backfires in the not-too distant past. In 2017 UK-based frozen foods retailer Iceland made an unfortunate promotional hashtag trend when they tweeted: 
To celebrate Ed Sheeran's album in selected stores, we're having a pizza party! Just look at this Deep Pan photo album! #deeppanalbumparty
Closer to home, two of South Africa's major banks have made serious hashtag blunders on their official Twitter accounts.
Standard Bank tried to hijack the MakeAWomanSmileIn3Words trending hashtag with this ill-conceived tweet: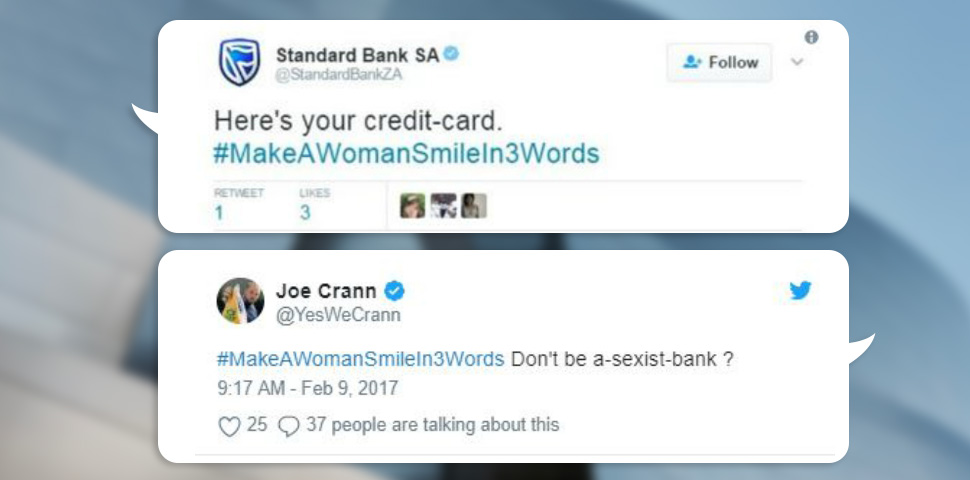 While the social media manager at Absa decided to tweet about Black Tax – and got a severe backlash in the tweet-backs: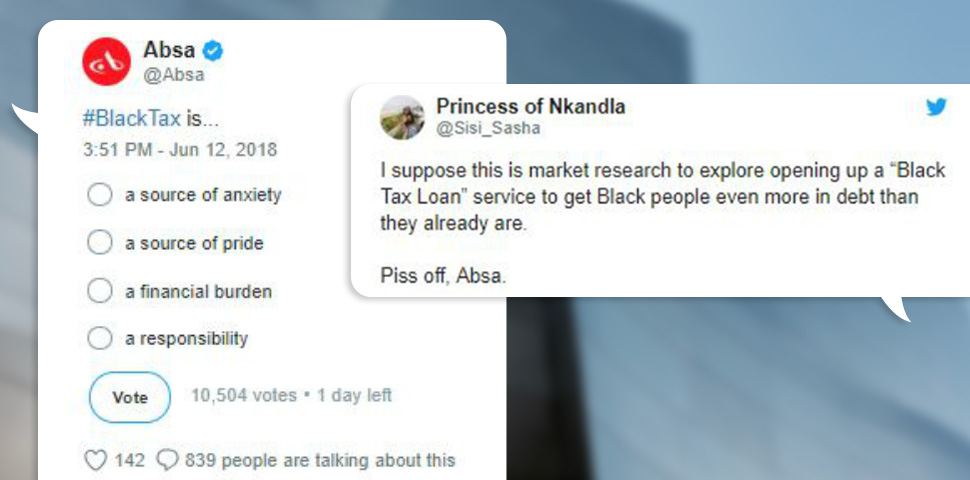 (Absa later tweeted an apology stating that they'd intended to include a link to their blog with the poll, where they had interviewed an expert on the topic. "We wanted to help," read the tweet. "We failed.")
How to find the right hashtags
Hashtags are a difficult beast to get a handle on, and a lot of it can be hit or miss (or even disastrous, as we've pointed out). And they're not only limited to Twitter and Instagram either – they've also been incorporated into other platforms like Facebook and LinkedIn.

But hashtags can be a powerful tool when they're used properly – in fact, in 2020 a post with at least one Instagram hashtag averages 12.6% more engagement than posts without a hashtag (but don't cram your Insta posts with hashtags, use six max), while Tweets with hashtags get 100% more engagement (use only one or two because if you use more, engagement declines again).

So it's crucial to find the right hashtags to use in the first place. It can be intimidating to know where to start, but using a hashtag search tool will help you:
figure out what's popular, and
find out what's trending (but remember, proceed with caution with this one).

The easiest way to find out what hashtags to use is to go directly into Twitter or Instagram and use their native hashtag search tools (you'll also be able to see what's trending based on your location; or you can use this very useful tool too).
On Instagram on mobile (it doesn't work on desktop), tap the search section, then tap the cursor. Type in a hashtag you'd like to use and results will pop up, including the number of times that hashtag appears on Instagram. For example, we like to use Seth Godin's #thisismarketing on our social posts; this is what comes up when you enter it into the Instagram search field: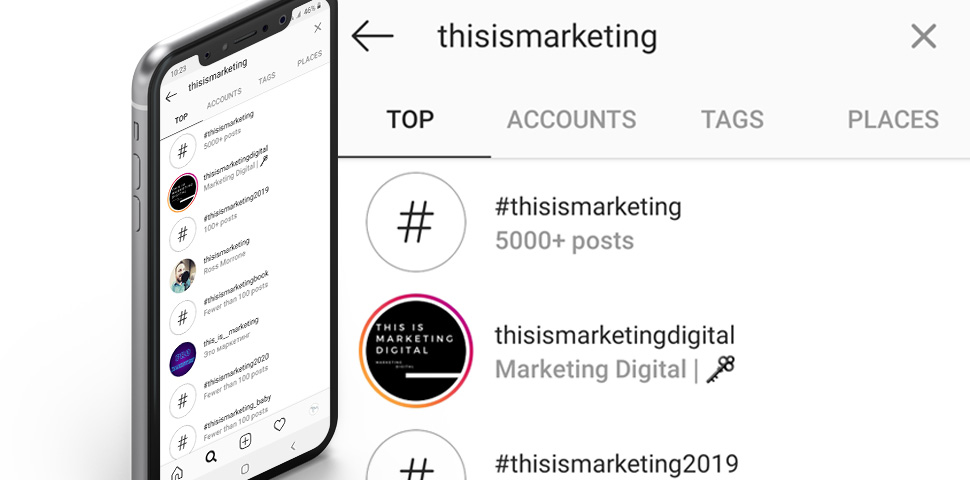 If you tap on the hashtag, more information will come up, including the number of times the hashtag appears on Instagram posts (5k in the case of #thisismarketing), a way for you to follow the hashtag, plus all of its posts as they appear on Instagram (top and recent). In addition, related hashtags will appear at the top (tap on any to see the same information, including the number of posts that fall under each hashtag).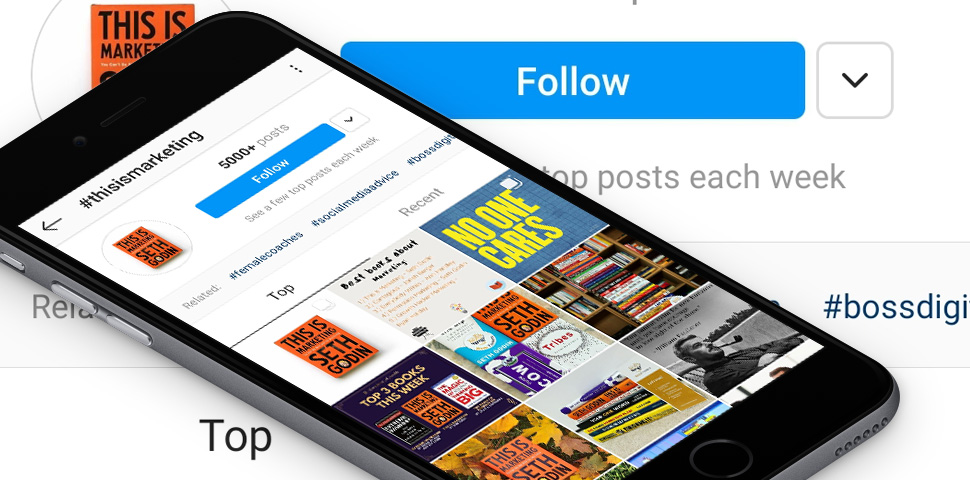 A good rule of thumb for both Instagram and Twitter is to use a hashtag that's not ridiculously popular (i.e. it doesn't have millions of posts), but don't use one that's only got 100 posts either. Rather use one that's somewhere between 15k-100k in post popularity (it depends on how niche or broad you want to go).
Bonus point: check out this free hashtag search and generator tool (it'll make your life easier).
Firewater's top three tips to avoid hashtag hash-ups
Think before you post. Does your brand or company need to get involved in the conversation; should they get involved? If you're unsure, don't do it (for the 'gram or otherwise). You need to be particularly careful if the hashtag in question is contentious or cause-specific. In these cases, whatever you do, don't use this kind of hashtag to punt your services or products. It's not a good look.


Do your research. Do a little digging to see what context the hashtag is normally used in (some hashtags are even banned, so you really don't want to use those – see this link for more). If you create your own hashtag, remember that the whole point is to help your content be more discoverable, so keep things relevant and short and sweet (three words max). And make sure that someone else has looked at the hashtag (you don't want a #deeppanalbumparty situation. Ever).


Stay true to your brand's voice. This applies to trending hashtags in particular. Before tacking on a #BlackLivesMatter to a post make sure you understand what the hashtag in question is all about – and whether or not it speaks to your audience and brand. If your financial planning company usually posts about #taxtips don't suddenly shift to #Metoo – it'll confuse your audience at best, and make you look disingenuous at worst.
Hashtags don't have to be a confusing minefield; they can actually do amazing things for your company and brand – if you know how to use them. When used effectively, hashtags are a simple way to increase brand visibility (the right kind, not the Ed Sheeran kind).
Need help with using hashtags to give your business the right reach, the right way? Contact us; we won't make a hash of it.
P.S. Did you know we have our own hashtag? Check out #TheFirewaterWay to find our content.
Why not drop us a message?