COVID-19 is hugely topical at the moment – many of us are scared, no doubt, as this state of disaster is largely an unknown. And with the unknown, comes fear.
At Firewater we're working remotely and ready for the lockdown – we're still carrying on and it's business as usual. Just like your business's content marketing needs to carry on.
It might be tempting to jump onto the COVID-19 content bandwagon, but we're being bombarded. The virus has appeared in our inboxes, our social media feeds, our neighbourhood WhatsApp groups, our conversations with work colleagues, and in the queue for loo paper at Woolies.
Most of us feel overwhelmed with what's going on, and a constant barrage of COVID-19 news is taking its toll on our collective psyche. Of course we need to stay informed, but COVID-19 fatigue is definitely setting in. 
Your business needs to keep its content marketing momentum, and it needs to adapt to stay afloat
Brands are also jumping on COVID-19 virtue-signalling, which doesn't help, either.
 "We all know what's going on," says Mark, Firewater's FIRECHIEF. "Yet many companies are sending out mailers to let people know what they're doing to address COVID-19, and it's becoming too much."
Life is changing big time for the next while, but, Mark emphasises, businesses need to continue as normal, as much as possible. To lose momentum, especially if your business already has a digital marketing plan in place, would be a really bad move.
"There's panic, but businesses are going to have to adapt – and quickly – to stay afloat," he adds.
According to Mark, digital marketing, now more than ever, can have a high impact. 
"Your face-to-face access to key decision-makers is not possible due to people not coming into the office, things now need to be done remotely, and your audience is in lockdown and hooked up to Wi-Fi at home, which means you can reach them more effectively," says Mark.
"The whole dynamic is changing, and fast. And, with a lack of human contact, digital communication – in all its forms – is going to be taken a lot more seriously."
Instead of pushing COVID-19 content, which could come across as tone-deaf and insincere, says Mark, keep doing what you've already been doing. There's a fine line between being insensitive and keeping up your content marketing momentum, but trust us when we say that most of your audience is already all COVID-19-ed out. Your business's message may need to adapt to the changing times, but it mustn't come to a grinding halt, either.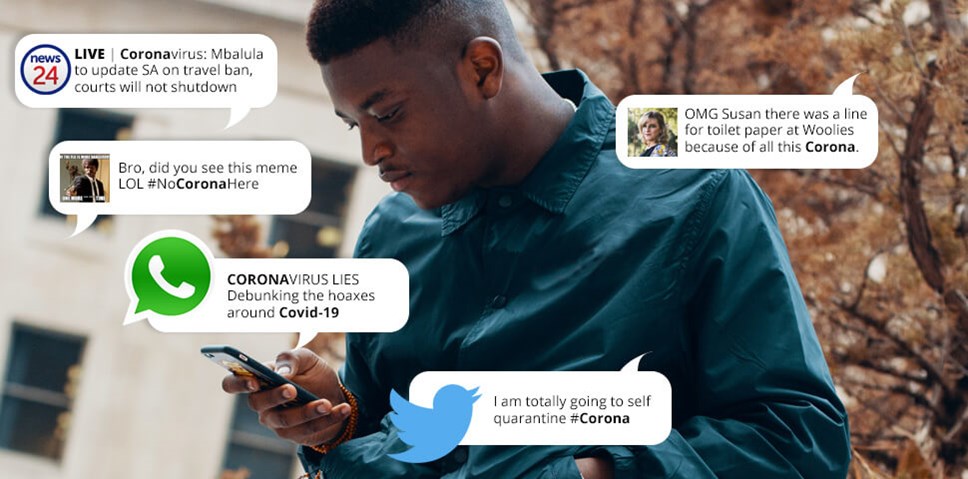 Need more reasons why your audience might want a COVID-19 respite?
We did a quick Google search and found some interesting comments via the Indie Hackers website, where the question 'Content marketing affected by COVID-19?' was posed:
"I've got lots of great podcast episodes queued up, and lots to write and tweet about as usual… but the coronavirus spread is dominating the airwaves and our attention spans right now. It feels almost trivial to share a discussion on work-life balance when the markets are crashing, many businesses and even countries shutting down, and doctors are making life and death decisions. Anyone else feeling this way?
Here are some of the responses: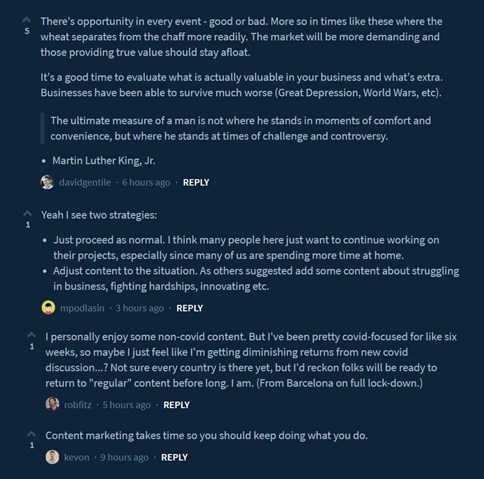 Mark adds that right now, everyone needs to review their content marketing plans – as always, content needs to be relevant, but not necessarily COVID-19 relevant.
"We have a captive audience right now, so it's an opportunity rather than a hindrance."
Need to keep up your content marketing momentum during these uncertain times? Contact us for a (remote) chat…
Why not drop us a message?