Digital has been disrupting businesses in unimaginable ways and businesses need to start adapting – quickly. It goes without saying that digital has become an integral part of life and plays crucial factor in the way we conduct business. It has changed how we market businesses and how should engage with customers.
It is because of this that your business needs to appoint a chief digital officer (CDO). Yes, just like a company has a CIO, CTO, CMO, Cxx – the rapid evolution of digital means this is a position that is no longer negotiable.  Your digital skills should, without a doubt, be sitting at the same table as your other chiefs.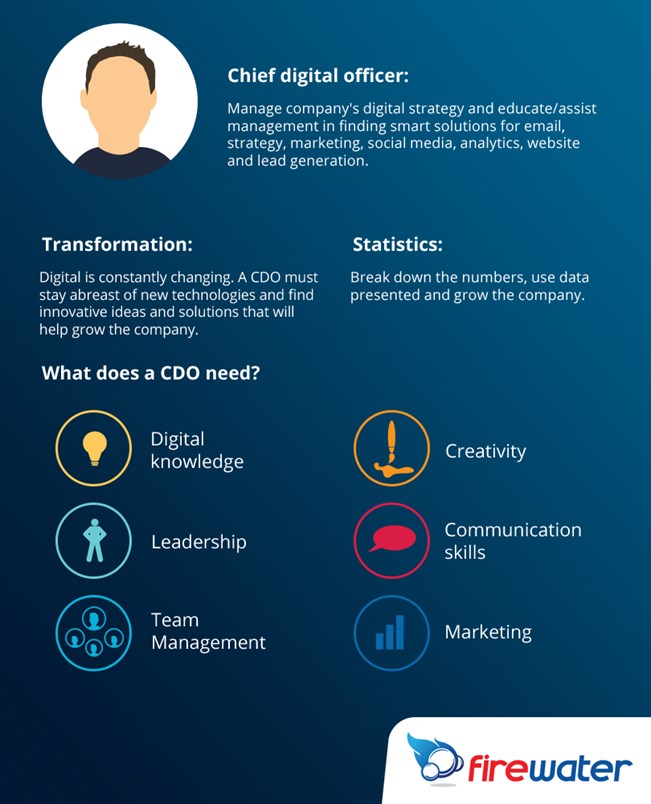 Alon Berman, founding member and chief digital officer at Firewater said "Digital can unlock opportunities in creating better efficiencies, systems and customer experiences. The new generation of customers are digital natives – they don't want to come into your branch to cash a cheque – they want self-service digital with instant gratification. Your digital team needs to lead with this line of thinking and be forming strategies to make sure today's customers are catered for with tomorrow's technology."
But what does a CDO actually do and how will they help your business?
A chief digital officer should disrupt the organisation, challenge current strategies and thinking about the future of the organisation and then plot the way forward for digital transformation.
"In our experience, a successful chief digital officers flourish with external teams – often when an organisation employs their own implementers, they are focusing on their requirements within a silo and not innovating. Innovation, for me, is being able to take a learning from one industry and apply it elsewhere to solve another type of problem. This is where external teams have the edge as internal ones are often trapped in the same course of thinking. " Berman said.
A chief digital officer should fulfil the role of developing digital strategies to that keep the brand accessible and keep its customers engaged. If you have done this right, your customers will bring new customers, becoming your evangelists and doing the marketing for you!
Berman said the beauty about digital was that it was not a one size fits all. "Truly going digital is about giving your customers that personalised experience. When going online, you should see the adverts that you are interested in. If something pops up on your screen that does not relate to you in some shape or form, the digital marketing team has done something wrong."
A chief digital officer and his/her team should first analyse the strengths and weaknesses of an organisation and see how to fill any gaps and eliminate any inefficiency. They will test the waters and ensure results that are trackable and successful.
- Stock take
- Competitor analysis
- Benchmark
- Ideation
At Firewater, we have team members that have specialised in a multitude of digital and communication fields – ensuring that our client's digital environment gets the best in terms of experience, skill set and lead generation."
The Firewater team has been handpicked to ensure clients receive only the best when it comes to managing their various digital and PR needs. From strategy, communications, digital marketing and management; to staff with expertise in social media, public relations, content creation, online reputation management, and video – the team at Firewater, led by chief digital office Alon Berman, is your perfect digital marketing and PR team.
"If your company is ready to appoint a chief digital officer or needs help in enabling your business digitally, contact Firewater on +27 11 262 6056 or email info@firewater.net
Why not drop us a message?